Highlights
Latest Highlights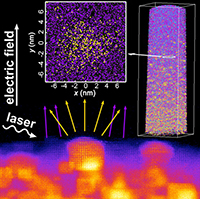 Taking Back the Angels' Share of Atoms
Non-uniform evaporation prevents scientists from seeing every atom on a surface
September 2014

On the surface of a battery's electrode, a material that stores wind energy, or on nearly any other surface, scientists can use atom probe tomography to identify and locate almost every atom. But some atoms evaporate non-uniformly before they are identified-reminiscent of the angels' share, the amount of wine or whiskey volume lost to evaporation during barrel aging. Scientists at Pacific Northwest National Laboratory and the University of Rouen revealed which atoms evaporate in mixed materials, where there are many different types of atoms. They managed this feat by correlating data from three techniques, accounting for all of the atoms and determining how atoms were evaporating from APT.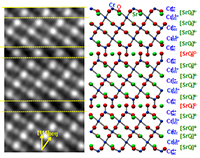 Angling Chromium To Let Oxygen Through
New semiconducting material works at temperatures low enough to improve fuel cell efficiency
September 2014

Researchers have been trying to increase the efficiency of solid oxide fuel cells by lowering the temperatures at which they run. More efficient fuel cells might gain wider use in vehicles or as local electricity generating stations. A serendipitous finding has resulted in a semiconducting material that could enable fuel cells to operate at temperatures two-thirds lower than current technology.
In an attempt to create a metal oxide with the properties of metal, researchers at Pacific Northwest National Laboratory created a new form of the metal oxide. This particular strontium-chromium oxide performs as a semiconductor. It also allows oxygen to diffuse easily, a requirement for a solid oxide fuel cell. Best yet, it allows diffusion at a temperature that can lead to much more efficient fuel cells.