Highlights
Latest Highlights

The Reality of Problem Solving
Algorithm accounts for uncertainty to enable more accurate modeling
June 2015

Today, numerical models routinely simulate physical system behaviors in scientific domains—many within DOE's critical mission areas. However, because of incomplete knowledge about the systems being simulated, parametric uncertainty often arises, resulting in models that deviate from reality. To remedy this, PNNL's Weixuan Li and Guang Lin from Purdue University have proposed an adaptive importance sampling algorithm that alleviates the burden caused by computationally demanding models. Using test cases, they demonstrated that the algorithm can effectively infer model parameters from any direct/indirect measurement data through uncertainty quantification, improving model accuracy and enhancing computational efficiency.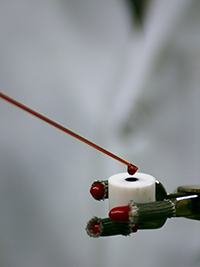 Once thought unimportant, a supporting film actually speeds or derails electricity production
June 2015

Quickly, reliably turning wind energy into fuel means looking beyond the catalyst to its foundation, according to a study from the Center for Molecular Electrocatalysis, headquartered at Pacific Northwest National Lab. The team discovered that the catalyst's support has as much of an impact as the catalyst structure itself because the technique used to place the support changes the mesoscale environment.