Highlights
Latest Highlights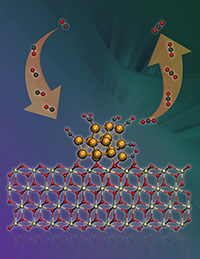 In the Heat of the Reaction, a Single Atom Delivers
Converting carbon monoxide in fuel cells with a gold catalyst hinges on one ion shuttling the critical electron
March 2015

For fuel cells that create electricity without pollutants, converting or oxidizing carbon monoxide is vital, and understanding how this reaction works could open doors for improved efficiency and reduced costs. Led by scientists at Pacific Northwest National Laboratory, a new study in Nature Communications highlights something new -- a single atom that appears in the heat of action catalyzes the reaction.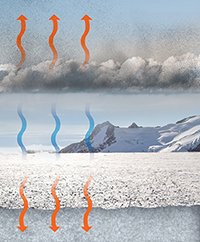 Soot and Dust: A Better Picture of the Impact on Snow
Study shows tiny particles have mighty power, heating and melting snow
March 2015

Researchers at PNNL developed a first-of-its-kind, high-resolution regional modeling framework that simulated how light is absorbed by soot and dust in seasonal snowpack. Their detailed simulation better captures the kinds of emissions and processes that influence how after landing on snow, these particles have a great capacity to attract heat.