Highlights
Latest Highlights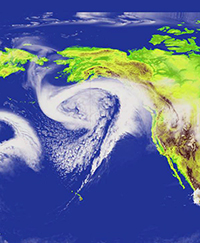 Uncovering Global Effects of Clouds on Climate
Multi-scale model provides global view of Asian pollution impacts on Pacific storm track
April 2014

Scientists from Texas A&M and PNNL provided a first-time global perspective of the impacts of Asian pollution on the Pacific storm track and subsequent weather. They found that a unique modeling technique developed at PNNL allowed them to understand the global scale effect of tiny pollution particles to strengthen storm clouds and rain.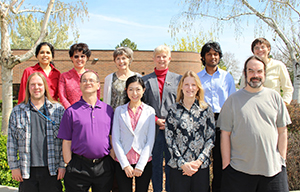 ARM Data Team Hosts First Programming Summit
April 2014
In April 2014, the Atmospheric Radiation Measurement (ARM) Data Integration team hosted their counterparts from Brookhaven National Laboratory as part of a three-day meeting aimed at furthering their expertise using the ARM Data Integrator, or ADI. During their tutorial, the collective teams honed their skills using a "pair programming" technique that pairs two programmers at one workstation, allowing code to be written and examined simultaneously for immediate feedback. The group also used pair programming to migrate existing code to a new Linux-based operating system.