Doug Ray, Ph.D.
Welcome to the Fundamental & Computational Sciences website.
I hope you take the opportunity to explore it and learn about the outstanding people, capabilities and scientific research at the Pacific Northwest National Laboratory.
—Doug Ray, Associate Lab Director
"We strive to make progress on today's important scientific challenges."
Research Highlights
Remote Heat Rouses Hurricanes
Sea surface temperature in North Atlantic and Mediterranean waters triggers tropical cyclones afar
Scientists at PNNL identified a connection between the variations in temperature of the sea surface in the North Atlantic Ocean and the Mediterranean Sea and variations in Atlantic tropical cyclones from year to year. Their research is the first to use 30 years of observations to systematically identify the physical and statistical linkages between the two.
Scientists at Pacific Northwest National Laboratory exposed human skin tissue samples to low doses of ionizing radiation and found that the skin showed perturbations that suggest its stability is altered. This, in turn, could change skin's sensitivity after exposure to insults, such as infection. Understanding the effects of low-dose radiation exposure is important for protecting the population and environment from potentially harmful effects of increased exposures.
The Softer Side of Control without Clumping or Capping
Creating bare, two-metal particles provides insights into potential substitutes for costly platinum in fuel cell catalysts
Replacing some or all of the platinum in fuel cells with common metals in a reactive, highly tunable nanoparticle form may expand fuel cell use. At Pacific Northwest National Laboratory, scientists created reactive, tunable, bare nanoparticles using a new technique combined with ion soft landing.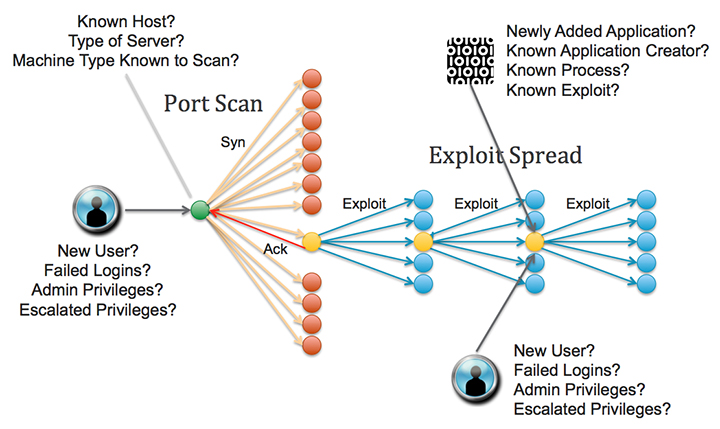 Full Story
|
March 2015
Detecting cyber security breaches and identifying their attack patterns in complex computing networks as they emerge in real time remains a paramount concern and growing challenge. In their work involving streaming graphs, scientists at PNNL and Washington State University, devised a novel framework, StreamWorks, that categorizes cyber attacks as graph patterns, which then can be examined using a continuous search on a single, large streaming dynamic graph. Identifying events and patterns as they emerge will go a long way in evading and mitigating the computer network intrusions that have potentially criminal, even dangerous, consequences and have made cyber security a multi-billion dollar industry.