Doug Ray, Ph.D.
Welcome to the Fundamental & Computational Sciences website.
I hope you take the opportunity to explore it and learn about the outstanding people, capabilities and scientific research at the Pacific Northwest National Laboratory.
—Doug Ray, Associate Lab Director
"We strive to make progress on today's important scientific challenges."
New AAAS Fellows Honored
Laboratory Fellow Nigel Browning, Associate Laboratory Director for National Security Anthony Peurrung, Associate Laboratory Director for Fundamental & Computational Sciences Douglas Ray, and Associate Laboratory Director for Environmental Molecular Sciences Allison Campbell (left to right) were inducted as Fellows of the American Association for the Advancement of Science at the 2013 AAAS meeting in Boston. Learn more about our newest AAAS Fellows.
Research Highlights
An international team, including a Pacific Northwest National Laboratory scientist, used two new techniques to find the viscosity of organic particles produced when alpha-pinene meets ozone. They found that the resulting carbon-containing particles behave like liquids, semi-solids or solids across a range of atmospheric relative humidity conditions. Their research was published in the Proceedings of the National Academy of Sciences. At PNNL, this work was supported through the Aerosol Climate Initiative of the Laboratory Research and Development Program, and used the continuous-flow environmental chamber at the Atmospheric Measurements Laboratory.
A review of the current issues in low-dose radiation research authored by two radiation biologists from Pacific Northwest National Laboratory is the cover story of the May 2013 issue of Radiation Research. The review, by Laboratory Fellow William F. Morgan and retired PNNL scientist William J. Bair, highlights critical areas of controversy in low-dose radiation biology, and suggests areas of future research to address these issues.
How to Overcome the Oxide Barrier
New insight into how to make electrical contact with an oxide semiconductor
Researchers at Pacific Northwest National Laboratory have uncovered the characteristics of a low-resistance electrical contact to strontium titanate, an important prototypical oxide semiconductor. Oxides are likely to be important materials in next-generation electronic devices, and they need to be extremely small. Getting electrical signals into and out of oxide semiconductors is hard because a large energy barrier typically develops at the junction with metal contacts. Metal contacts are required to get electricity into and out of a semiconductor device in much the same way that jumper cables are needed to transfer power from a healthy car battery to a dead battery. This work shows how to eliminate this barrier while keeping the contact area extremely small, at the nanometer level.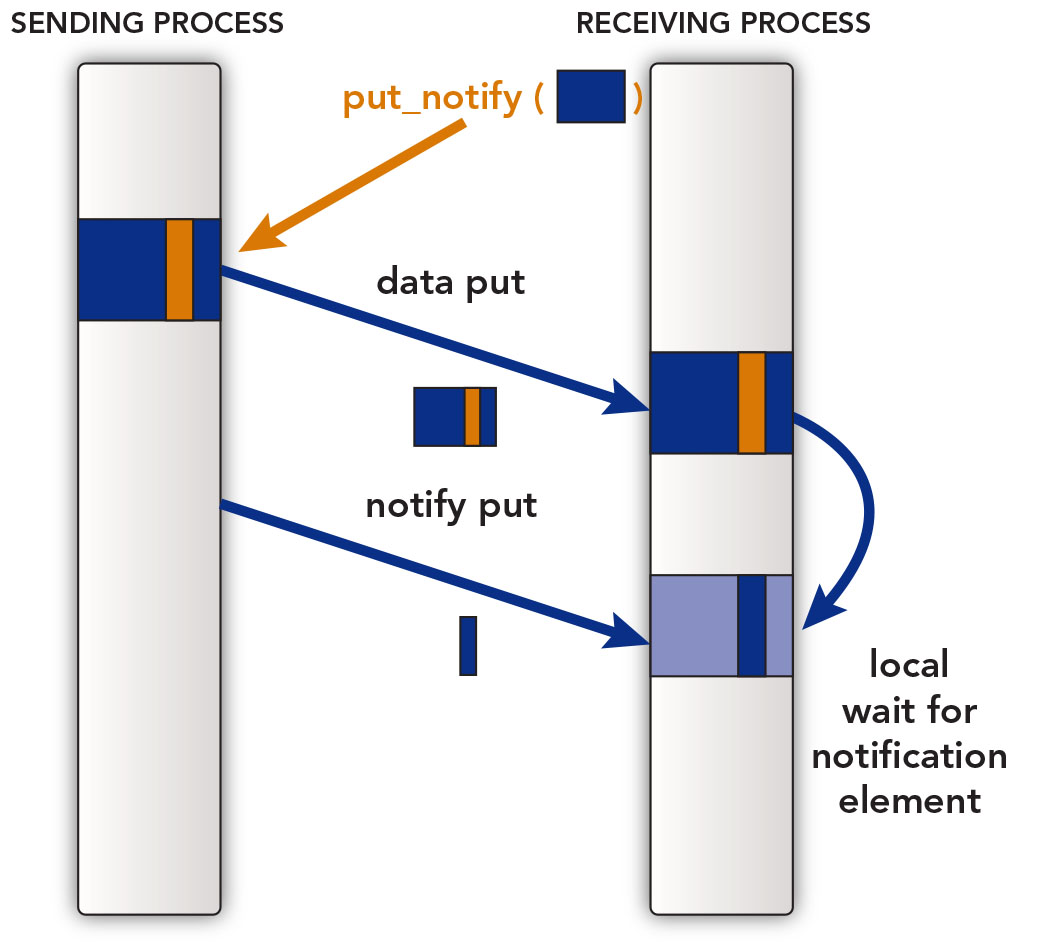 Full Story
|
February 2013
No Downtime for Communication
New framework allows for asynchronous communication in exascale machines
To take advantage of enormous resources that next-generation super computers are expected to have, DOE researchers at PNNL designed a new put_notify capability that allows a process to initiate and complete data to another process without synchronization.