With multidisciplinary expertise spanning technical pillars of high-performance computing, data science, computational mathematics, and computational engineering, we work toward building computational capabilities that position PNNL as a computing powerhouse. We also focus on enhancing the Science of Computing to achieve high-performance, power-efficient, and reliable computing at extreme scales for a spectrum of scientific endeavors that address significant problems of national interest, especially among PNNL's core pursuits—energy, the environment, national security, and fundamental science.
---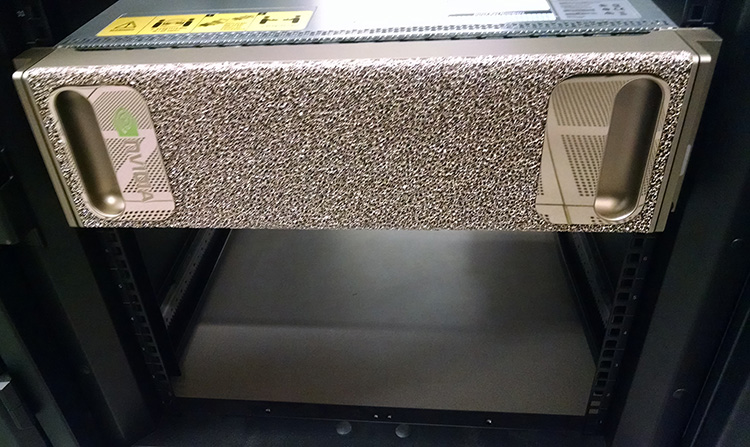 PNNL's Center for Advanced Technology Evaluation, known as CENATE, recently expanded its capabilities for measuring and modeling advanced technologies with the addition of a leading-edge DGX-1 system from NVIDIA Corp. Billed as "the world's first deep-learning supercomputer," the DGX-1 testbed complements the slate of systems and testbeds being used to measure, model, and design technologies that will impact future large-scale high-performance computers.
---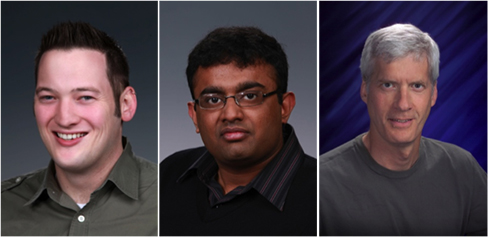 Scientists Jeff Daily, Abhinav Vishnu, and Bruce Palmer, all from the ACMD Division High Performance Computing group, served as the core team for a new release of the Global Arrays (GA) toolkit, known as Version 5.5. GA 5.5 provides additional support and bug fixes for the parallel programing model that originally was developed in the late 1990s at PNNL. The updates to GA 5.5 resulted from a coordinated effort between the GA team and Intel Corp.
---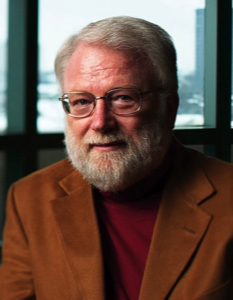 NWChemEx: Tackling Chemical, Materials and Biomolecular Challenges in the Exascale Era was recently selected as a four-year project for the national Exascale Computing Project, known as ECP. NWChemEx will enhance the popular computational chemistry code, NWChem, to dramatically improve its scalability, performance, extensibility, and portability to take full advantage of exascale computing technologies. Dr. Thom Dunning, a Battelle Fellow with the University of Washington-PNNL Northwest Institute for Advanced Computing, is NWChemEx's Project Director.
---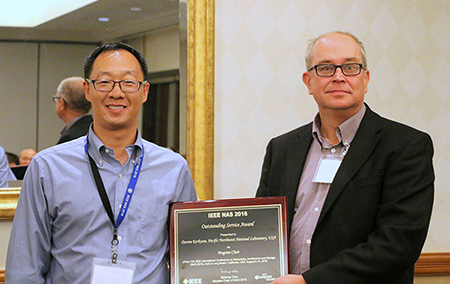 For his work as the Program Co-chair of the 11th IEEE International Conference on Networking, Architecture, and Storage, known as NAS 2016, Darren Kerbyson, Associate Division Director of PNNL's High Performance Computing group and Laboratory Fellow, was honored with an Outstanding Service award. IEEE NAS 2016's General Chair Zizhong Chen (University of California, Riverside) presented the award as part of the conference activities.
---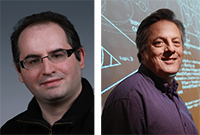 Antonino Tumeo, a senior scientist with PNNL's High Performance Computing group, and John Feo, the current co-director of the Northwest Institute for Advanced Computing, will serve as co-editors for a special issue of the Journal of Parallel and Distributed Computing. The "Special Issue on Systems for Learning, Inferencing, and Discovering (SLID)" will explore solutions for supporting efficient execution of irregular applications. To encourage submissions, a Call for Papers, examining theoretical and practical topics are of interest, has been issued.
---